On the morning of September 27, 2021, in accordance with the company's strategic development, the CT-CRV business division kick-off meeting and August outstanding employee recognition meeting were successfully held in Zhikun Technology. More than 100 people, including the company's vice chairman Chi Shoubin and CT-CRV business department general manager Yu Yang, attended the kick-off meeting. The meeting was presided over by Wen Chenyang, deputy manager of the integrated management department.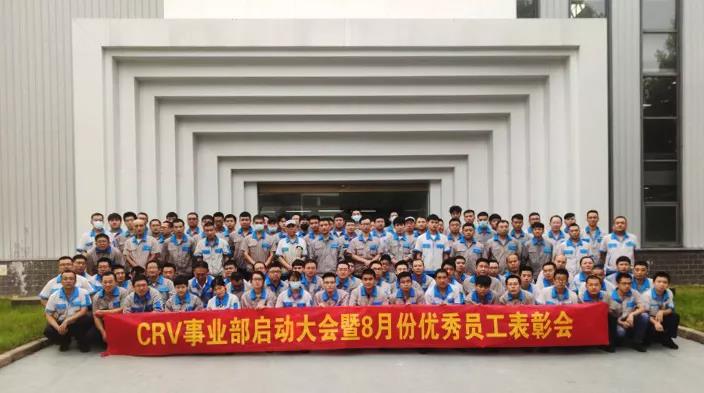 It was announced at the meeting that the CT-CRV business department was formally established, which is the core department of the company's high-tech development. CT-CRV Division has mastered the core technology of "Robot JointCT- CRV Reducer Design and Manufacturing Process", and has completed the mass production and supply of CT-CRV products E series, C series and electromechanical integrated reducers. Customer feedback is good, and orders are increasing month by month. At the same time, while accelerating the large-scale production of standard reducers, we will continue to invest in research and development and continuously improve our product customization development capabilities.
Among them, the electromechanical integrated series reducer (CT-CRD series): is a high-precision, impact-resistant and overload-resistant, high-rigidity, and high-output speed product designed and developed for large-load, large-span parallel robots. This type of speed reducer completely solves the problems of insufficient rigidity and low precision of parallel robots under large reach and large load conditions. Cycloid reducer module (CT-CHR series): This series of reducers are widely used in bionic or simulated anthropomorphic robots, walking robots, human exoskeleton and medical rehabilitation machinery. These are the results of the labor of the employees of the CT-CRV business department. The CT-CRV business department will surely become the company's "leader". In the future, the CT-CRV business department will be responsible for increasing output, responding to user needs more quickly, and providing more users with precise customization. Service and other important missions.
In the future, our company will continue to strengthen the management of theCT- CRV division, and promote the improvement of the division's production efficiency and performance breakthroughs. The CT-CRV business unit will be a sharp sword out of the sheath. It will continue to enter the market with product advantages such as higher performance, longer life, and better stability, comprehensively improve the company's product competitiveness, consolidate its leading position in technology, and achieve the company The overall strategic deployment and continuous efforts!