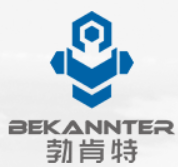 Bekannter Robot Technology Co., Ltd. is a high-tech enterprise integrating industrial robots and high-speed and high-precision automation solutions. With its own technical reserves, the company has successively completed the R&D and listing of parallel robots, series-parallel hybrid robots, SCARA robots, BeMotion controllers and wireless teach pendants, becoming the only company in the world with a full range of parallel and serial-parallel hybrid industrial robots. the company.
The company takes technology research and development as the forerunner and continuously explores the optimization and innovation schemes of robot structure, control and vision algorithms. It has accumulated more than 60 national patents. It redefines the industry's new standards in terms of the body's standard tempo speed, repeat positioning accuracy, arm span range, and end flexibility. It is the first application of drag teaching and wireless teaching device in the field of parallel and hybrid connection, pushing the development of robots in the field of human-computer interaction to a new peak.
Adhering to the business philosophy of "quick response, quality first", Bekannter invested tens of millions in 2018, introduced dozens of advanced precision CNC lathes and testing equipment, established self-organized processing centers and smart factory assembly lines to realize the main mechanical parts Strict quality control of precision and component assembly. The unique 24-hour standard performance testing process, strict implementation of CE, GB/T19001-2016 / ISO9001:2015 and other international quality management systems, effectively guarantee the continuous high standards and stability of product quality.
At present, it has been widely recognized in the food, medicine, logistics, daily chemical, 3C and new energy industries in materials sorting, palletizing, production and assembly, precision measurement, precision positioning and other applications. Establishing a long-term and stable cooperative relationship has achieved remarkable results in improving production efficiency and continuous improvement. The after-sales service tenet of responding within 2 hours, arriving within 24 hours, and solving problems within 72 hours is also positively recognized by customers.
Currently, Bekannter has completed the production and operation of the Zhenjiang production base. Bekannter's Zhenjiang Smart Factory has a construction area of about 6000 square meters. It took about 45 days from project initiation to completion of construction. Based on the full configuration of robots, it integrates the IoT digital information platform and cooperates with its own MES system, from core components to The production of the robot body enables customers to independently query and trace the production process of each robot, and can also participate in the whole process of "intelligent manufacturing" of products through real-time sharing.
The start of Bekannter's Zhenjiang plant on August 22, 2019 marks Birkent's official production in East China. In the future, it will spread across the country in four regions: North China (Tianjin), Central China (Zhengzhou), East China (Shanghai, Zhenjiang), and South China (Dongguan). Serve customers, reach every corner with "extreme speed". In the future development, Bekannter will continue to increase investment in product research and development, optimize services, strictly control product output, realize the great transition from "Made in China" to "Intelligent Manufacturing in China", and help Chinese companies accelerate their pace into Industry 4.0 era.